In the latest episode of What Women Want, Kareena Kapoor and Shefali Shah were seen talking about their sons and the relationships the siblings share.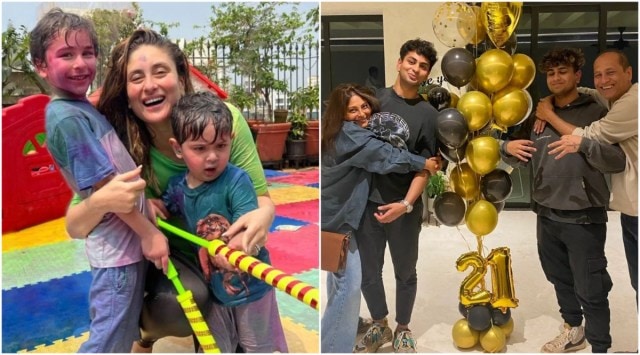 Kareena Kapoor and Shefali Shah spoke about their kids in the latest episode of What Women Want. (Photo: Kareena, Shefali/Instagram)
Listen to this article
00:00
1x1.5x1.8x
It's always heartening to see mothers talk about their children. As Kareena Kapoor and Shefali Shah got together for the episode of What Women Want, fans were in for a treat as the mommies talked about their boys.
Shefali opened up about her kids moving abroad for soccer training and how she is a paranoid mother. The actor also revealed that she gets upset if someone doesn't put on the light in the room of her son, who is currently studying abroad. In the last segment of the show, she also asked Kareena about her experience of being a mother to two sons.
RECOMMENDED FOR
With a broad smile and joy on her face, the Jab We Met actor shared how her kids Taimur and Jeh are in a phase where the latter keeps snatching things from his elder brother. She said that they are always at it and seeking her to call a truce. However, she also mentioned how Taimur is a really understanding and loving brother and lets Jeh have everything he wants. "When I go back and thank him for being so kind, he's like, 'It's okay, he's my little brother,'" she shared, adding that she really wants her kids to grow up as close friends, just like her and Karisma Kapoor. Photos |11 photos from Kareena Kapoor, Saif Ali Khan's Kenyan vacation with sons Taimur and Jeh
Shefali Shah, on the other hand, had a different story to share as she recalled how just before teens, her sons hated each other. "My elder one Aryaman wanted me to give up Maurya. He was like if you want something that moves, get a dog," she quipped. The actor added that she told him how she wanted to give both of them away but no one was willing to take them. Her statement left Kareena Kapoor in splits as they discussed how kids often grow up being very attached to them and then don't want parents to get involved in their matters.
In another segment of the episode, Kareena asked Shefali about the importance of vanity and her take on surgical procedure to enhance it. Shefali shared that earlier she didn't care about what she wore but now with her team being involved, she's dressed better. She added that also with social media, they need pictures and videos to post leading them to work on newer looks. "And it has helped in certain ways. Given the kind of roles I was playing, people always thought I was much older. They saw that I can look good like this also."
Also Read |Shefali Shah says Dil Dhadakne Do makers thought her character was 'weakest on paper', opens up on the iconic 'cake scene'
Sharing her opinion on beauty-enhancing surgeries, the actor said she is no one to judge. "Everyone has a choice and no one should have an opinion. There's no right or wrong in it and one can decide for themselves. It's their body and face," she shared.
Interestingly, in the 'Bad taste, good taste' segment, Shefali Shah did have strong opinions about Uorfi Javed's fashion sense. Kareena Kapoor showed her a placard of the social media sensation, with her face hidden, and asked her if it's 'good or bad taste'. "What the f@@k!" Shefali exclaimed, adding that it was in 'bad taste'. "There's no taste, this is nothing," she added.